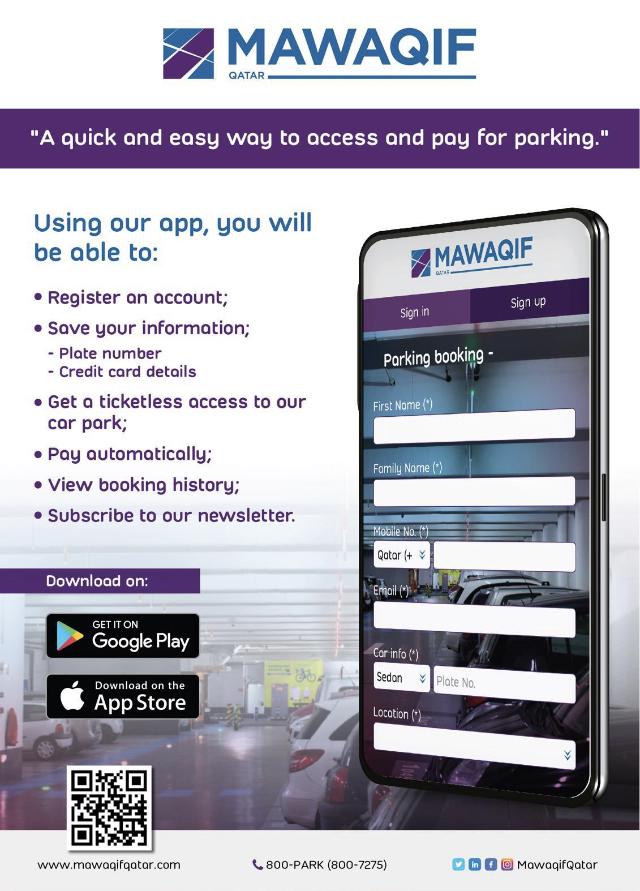 Doha, 2nd November, 2020, QDVP, a leader in paid parking operations, and smart facilities management is making a strategic shift by putting Mawaqif Qatar App at the heart of its digital platform to enhance innovation and customer experience in support of Qatar National Vision.
QDVP spearheaded a new approach by developing Mawaqif Qatar App, the first app offering a fully digital parking experience by providing hands-free access to off-street parking and implementing contactless payment. Moreover, QDVP is transforming into a digital factory for all its business lines, offering ticketless valet systems, centralization, remote management, and much more.
"The technological, marketing, and digital added value is a key driver of our company growth. We are going to strengthen our position and accelerate our digital transformation by harnessing Mawaqif Qatar app and our expertise, exclusively for the Qatari market," said Mr. Gilles Guillochon, QDVP CEO.
Mawaqif Qatar App, currently available on Apple Store® and Google Play Store®, is the first app in Qatar for ticketless access. Customers, after signing up and registering their credit card and vehicle details, can access any of our parking facilities, recognized by license plate recognition, with the option to settle parking fees at any time via the app while benefiting from promotional rates. It is also worth mentioning that the platform has obtained the Theqa trust mark of the Ministry of Transport and Communications.
Likewise, our ticketless valet system is a first of its kind, where the customer doesn't receive a paper ticket. Instead, they receive a digital ticket via SMS, including a link to retrieve the car and pay online, change the pick-up location, maintain a digital receipt, and get in touch with our customer service team at any time.
More digital services are being developed, including the remote management of car parks, digital enforcement tools, and electronic toll gating, all via the Internet of Things (IoT).
Nevertheless, QDVP will remain up to date with digital transformations, while anticipating all the operational requirements for electric vehicles and autonomous cars, and keeping in mind the improvement of customer experience and individual mobility.
About QDVP
QDVP, with its trademark Mawaqif Qatar, is a smart facility manager and car park operator, managing emblematic projects such as Hamad International Airport, Hotel Park, Mandarin Oriental Hotel, and Msheireb Doha Downtown car parks, with a balanced focus on technology as well as customer service. In its portfolio as a market leader in Qatar, 22,000 parking spaces in operation.
Mawaqif Qatar can be reached at info@mawaqifqatar.com or through social media @MawaqifQatar.